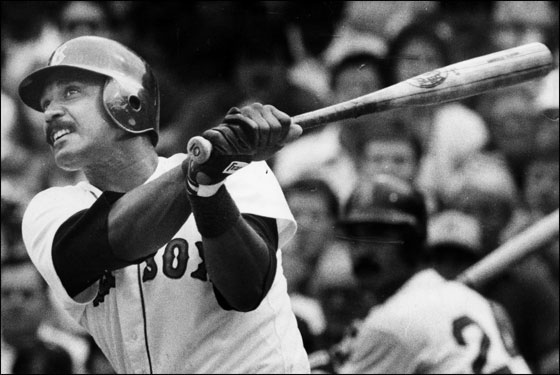 Photo Credit: [Boston Dirt Dogs]

From ESPN.com:
NEW YORK -- Mark McGwire fell far short in his first try for the Hall of Fame, picked by 23.5 percent of voters while Tony Gwynn and Cal Ripken Jr. easily gained baseball's highest honor.

Tarnished by accusations of steroid use, McGwire appeared on 128 of a record 545 ballots in voting released Tuesday by the Baseball Writers' Association of America.

Ripken was picked by 537 voters, appearing on 98.5 percent of ballots, falling just short of the record percentage of 98.84 set by Tom Seaver when he was selected on 425 of 430 ballots in 1992.

Gwynn was just behind with 532 votes, 97.6 percent.

Goose Gossage finished third with 388 votes, falling 21 shy of the necessary 409 for election. Jim Rice was fourth with 346, followed by Andre Dawson (309), Bert Blyleven (260), Lee Smith (217) and Jack Morris (202).

Jim Rice was an absolute menace to opposing pitchers for 12 straight years. He is the only player to ever have three straight seasons with over 200 hits and 35 home runs (go ahead, look it up, no A-Rod, no Gehrig, no Ruth, no Mantle, no Williams, etc.). All-Star 8 times, 100+ RBI 8 times, .300 BA 7 times. Oh, and about those 12 years, this from the
NY Daily News
:
"Twenty M.L. players have hit .300+ with 350+ HR over a 12-season stretch (Ruth was the first, from 1915-1926), but Jim Rice stands alone in his dozen years (1975-86). He is the only M.L. player of his generation who accomplished the feat (linking 1974, when Aaron became the career HR leader, to 2001, when Bonds became the single-season HR leader). All players [achieving this mark] who have been on the Hall of Fame ballot have been elected – except for Jim Rice."
While certainly not a stat worth discussing in Hall of Fame talk, I would be remiss if I didn't mention Rice's penchant for breaking bats on
check swings
. That's right, check swings.
Rice is now at the point, in terms of votes, that he should eventually get in. McGwire, on the other hand, will most likely never be enshrined. If this attitude towards possible steroid/performace enhancing offenders continues, we will be saying the same thing about Rafeal Palmeiro and Sammy Sosa. If Palmeiro, Sosa and McGwire never make it into the Hall they will be the only members of the once elite "500 Club" to be left out. Here's hoping that Barry Bonds will serve the same sentence of exclusion.